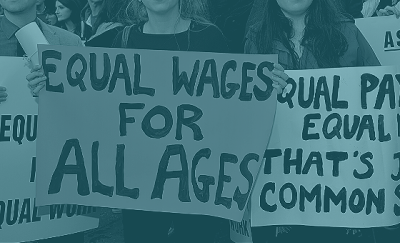 Post-2010 Entrants' Pay
The ASTI has been to the forefront of the campaign for equal pay for post-2010 entrants to teaching. This has included ASTI members taking strike action in opposition to the injustice of unequal pay.
In 2011 and again in 2012, specific pay cuts for new entrants to the teaching profession were imposed by government. There was no negotiation with teacher unions. From then on, an enormous gap between the salary of new-entrant teachers and those who entered the profession earlier opened up. A shocking era of pay discrimination within the teaching profession came into being.
The ASTI has been to the forefront of a campaign to challenge this injustice and have it reversed.
We refused to vote to accept any proposals that have emerged to deal with the issue as they did not bridge the pay inequality gap
We took strike action in 2016, seeking to have the injustice resolved.
In taking strike action, ASTI members endured the full force of emergency legislation (FEMPI) imposed upon them (increment freezes, pay freezes, withholding of supervision and substitution payments etc.) even though the crisis had long since been declared over by senior government ministers.
ASTI protests have been many and varied.
ASTI has intensively lobbied politicians of all parties and none.
Pay inequality – the consequences
Arising from the Government decisions to introduce pay inequality into the profession, unsurprisingly, a recruitment and retention of teachers' crisis has developed. Newly qualified and other teachers have voted with their feet. Schools cannot recruit teachers of several subjects. There are simply no applicants for many positions. Many students have no qualified teachers to deliver their classes. An enormous brain drain has occurred. This culminated with a visit by the Minister for Education and Skills to the United Arab Emirates last year to plead with some of our brightest and best to return to teach in Ireland.
Undermining children's futures
Ireland's second-level schools have performed impressively in international comparisons. We must ensure that this continues. With teachers being pushed out of the profession your children's education is being undermined. Students deserve better.
The ASTI campaign – achievements to date
The ASTI campaign has already secured some important gains since the debacle began in 2011.
In 2013, a reversal of the cut in qualification allowances for those who entered teaching in the period 1st January 2011 to 31st January 2012 was achieved.
In the negotiations leading to the Haddington Road Agreement, ASTI and their colleague teacher unions secured improved pay scales for both the post 1st January 2011 and post 1st February 2012 entrants. These pay scales came into effect from 1st November, 2013.
In 2016, ASTI action secured the incorporation of the Honours Primary Degree allowance into the pay-scale of new-entrant teachers.
In 2018, the removal of the 4th and 8th points of the new-entrant pay scale was secured.
But a gap remains!
Elimination of the remaining differences in the early points of pay scale must be achieved.
Payment of the H.DIP/PME allowance to those who started teaching after 1st February, 2012 must be secured.
Commencement on point 3 of the pay scale to recognise the fact of a six-year unpaid training period must be restored.
In 2012, the gap between the starting salary of a new-entrant and colleague who was appointed in 2010 was over 20%.
The ASTI's action has more than cut this in half.
A new entrant now suffers a loss of approximately 10% less than what they would earn if they were on the pre-2010 pay scale in their first 10 years teaching.
What Now?
In October 2020 ASTI members voted in favour of industrial action, up to and including strike action, to be taken in conjunction with one or both of the other teacher unions.
The ASTI continues to liaise with the other teacher unions in relation to the issue of unequal pay.
Click here for ASTI/ INTO/ TUI joint statement on pay equality November 2020.
Click here for ASTI/ INTO/ TUI political lobbying campaign for pay equality November 2020.
Other information:
ASTI flyer 5 Reasons to End Scandalous Pay Inequality for New Teachers
ASTI Special Nuacht on General Election 2020
ASTI 2016 Equal Pay for Equal Work video
Back to campaigns