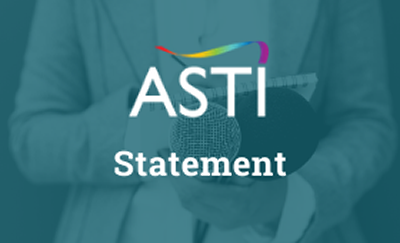 No confidence that schools are safe

The ASTI says it has not been provided with a credible level of assurance by the Government that schools will be safe places next week.
Following a meeting with representatives from the Department of Education on Wednesday, the ASTI said the union has no access to medical data demonstrating that schools are sufficiently safe for students and teachers at this time, in the context of the new variant and the alarmingly high numbers.
The union said it is concerned that the Government's decision has been made without full consideration of potential consequences to current public health objectives.
The ASTI continues to engage with the Department of Education and public health officials today to discuss all the implications of the Government's decision.

Following this, ASTI Standing Committee will meet to discuss developments.

Further updates will be posted on this website.
Back to news