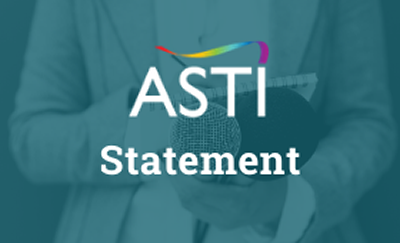 Greater clarity on school-to-community transmission needed
The ASTI is calling for greater clarification on whether Covid-19 cases in schools are driving community transmission.
The ASTI notes that internationally initiatives are being taken to investigate the extent of school-to-community transmission. This includes plans for mass testing of second-level pupils in the south east of England.
It is clear that there is a lack of knowledge about the extent of such transmission. The ASTI believes that similar work needs to be carried out in relation to Irish second-level schools.
In addition, there is a need for improved communications with school communities where outbreaks occur.
The ASTI also said that the roll out of the Covid-19 vaccine should be as rapid as possible and should address the need for schools to remain open.
ASTI Standing Committee, which met today, continues to monitor Covid-19 issues in schools in light of the ASTI's vote for industrial action in a ballot of members last October.
Today's meeting discussed a range of concerns of ASTI members around the country including the definition of close contacts being applied in schools and the ongoing concerns of teachers in the high-risk medical category.
ASTI President Ann Piggott said a key objective of the union is to keep schools open: "As we approach the end of term, I wish to acknowledge the work of school leaders, teachers and students in keeping schools open in these difficult times".
Ends


Back to news