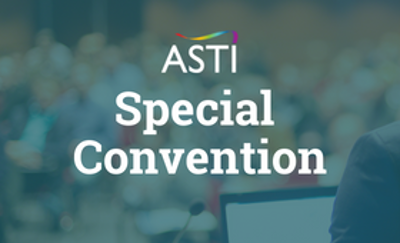 Details
A Special Convention will be held in the Radisson Blu Hotel, Athlone on Monday 27th June 2022 commencing at 1.00 pm. It has been summoned by the President, using the discretion afforded to him under the terms of Rule 67 of the ASTI Rules and Constitution. The President has constructed an agenda for the forthcoming Special Convention which will enable debate on a motion (see below) to ascertain whether ASTI should maintain its current policy position or otherwise regarding engagement in discussions on Leaving Certificate / Senior Cycle reform.
Special Convention Motion:
"That ASTI engage in discussions on Leaving Certificate/Senior Cycle Reform. This policy supersedes the previous adopted position regarding engagement in such discussions and does not impact on any other ASTI policy."
Proposed: Miriam Duggan, President Elect
Seconded: Padraig Murphy, Honorary Treasurer
Election of Branch Delegates:
Each branch of ASTI should now arrange for the election of branch delegates under Rule 58 (d) to attend the Special Convention. The names and details of delegates should be sent to ASTI Head Office using the form to arrive no later than 5.00 pm on Friday 10th June 2022. Please note that members of CEC automatically attend the Special Convention. If necessary, you can contact Rebecca Lyster at 01-6040164 to confirm your branch's allocation numbers.
Notification of Late Delegates/Change of Delegates:
In exceptional circumstances, late notification of branch delegates and/or changes of delegates must be submitted before 9.30 am on Monday 27th June 2022 by email to [email protected]. This deadline will be implemented rigidly. Please bring this deadline to the attention of delegates and CEC members. Please note that substitutes cannot be assigned to attend on behalf of CEC members.
Tellers/Stewards
Branches are requested to nominate one of their CEC members/Special Convention delegates to act as a Teller/ Steward at the forthcoming Special Convention. You are therefore requested to return the Teller/Steward nomination form no later than 5.00 pm on Friday 10th June 2022.
Special CEC Meeting:
A vacancy currently exists for an ASTI Trustee. Due to this vacancy the President has decided that, in accordance with ASTI Rule 84 (i) (a) a special meeting of CEC will be convened in the Radisson Blu Hotel, Athlone on Monday, 27th June, 2022 where it is intended to elect the Trustee. The Special CEC meeting will commence directly after the time of closure of the Special Convention.
Back to events