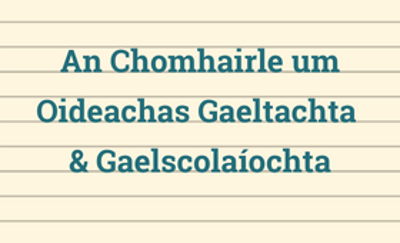 ASTI nominee to serve on An Chomhairle um Oideachas Gaeltachta agus Gaelscolaiochta
The ASTI is seeking applications from members who are interested in serving as an ASTI nominee on An Chomhairle um Oideachas Gaeltachta agus Gaelscolaiochta (COGG).
COGG's role is to advise the Minister for Education and the National Council for Curriculum and Assessment (NCCA) on all matters pertaining to Irish-medium and Gaeltacht education and the teaching of Irish in all schools; to co-ordinate the provision of teaching resources; to provide support services and to conduct research at both primary and post-primary level. COGG also has a role in the implementation of specific actions in the Policy on Gaeltacht Education 2017 – 2022.
The members of the new Board will be appointed by the Minister for Education with effect from 1st March 2022 for a period of four years.
The role of a Board member is set out below.
ASTI Standing Committee will nominate a member to serve on COGG for the next four years. Interested members should apply to the General Secretary by outlining their suitability on an A4 page. Applications must reach ASTI Head Office before close of business on Tuesday, October 12th, 2021
Applications should be sent to:
ASTI General Secretary
ASTI
Thomas MacDonagh House
Winetavern Street
Dublin 8
DO8 P9V6
Email:[email protected]
The Role of a COGG Board Member
An Chomhairle um Oideachas Gaeltachta agus Gaelscolaíochta (COGG)
Council members are expected to bring their education and other expertise and experience to the decision-making processes of the Board and work with all Board members to cater for the educational needs of Gaeltacht schools and of Gaelscoileanna and so facilitate a high-quality experience for all learners. While many Council members will bring the perspective of their nominating organisations, as Board members their responsibility is to make decisions in the best interests of COGG's mandate. Board members are expected to devote sufficient time to preparing for Board meetings by reading all papers circulated and by informing and developing their own knowledge and expertise on the issues raised.
The Board is the governing authority for An Chomhairle um Oideachas Gaeltachta agus Gaelscolaíochta (COGG) and, as such, Board members will be responsible for governing COGG in accordance with the Code of Practice for the governance for State Bodies 2016 and good governance practice. In that context, the Board is collectively responsible for leading and directing COGG's activities, including reviewing and guiding strategic direction and major plans of action, risk management policies and procedures, annual budgets and business plans, setting performance objectives, monitoring implementation and State body performance, and overseeing major capital expenditure and investment decisions. All Board members are expected to act diligently and independently in fulfilling these functions.
Back to news