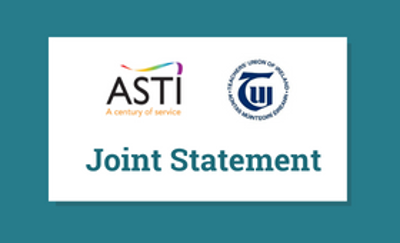 Following strong representations by the teacher unions, the Department of Education and National Council for Special Education (NCSE) today briefed union representatives, school management bodies and representatives from the special schools sector on the Assessment of Needs (AONs) process.
It was confirmed that there are a number of current Assessment of Needs processes for students underway across primary and post primary schools. These processes are being undertaken by the NCSE, NEPs and the Inspectorate. No additional Assessment of Needs processes will be initiated in schools for the moment. Upon the completion of those currently underway, the Department of Education and the National Council for Special Education (NCSE) have undertaken to revert to the stakeholders.
The teacher unions raised all the concerns that had been expressed by members. These included concerns from teachers, principals, deputy principals, SETs and special education teachers and SEN co-ordinators. The issues raised included the heavy workload in schools, lack of resources, training, time for work arising and the legal implications of filling the Assessment of Needs forms. The current proposal is unwieldly and an unacceptable imposition on overburdened school staff. These concerns, as raised by our members, will be pursued vigorously in the coming weeks.
The ASTI and the TUI are absolutely committed to providing the best possible education to students with additional and special educational needs.
Back to news