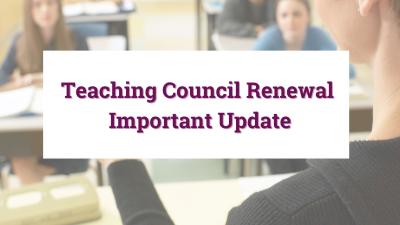 Teaching Council renewal – important update
Teachers must renew their Teaching Council registration annually. Each year before the renewal date, the Council sends a reminder notice to all registered teachers at their last notified email address.
On 14 October 2021 the Teaching Council introduced a new registration database and portal for teachers. Due to this, the renewal dates for registration were extended. Despite this many teachers have not yet renewed their registration. From the first week in January 2022, teachers who have not renewed/ paid their annual registration will be removed from the Register. Under Teaching Council legislation, once a teacher is removed from the register, they must complete the full application process including vetting. Teachers not on the register cannot be paid from State funds and this cannot be backdated.
Renewal is available online via the MyRegistration portal at www.teachingcouncil.ie. Assistance can be accessed at [email protected]. Please note, renewal fee payments cannot be made by telephone.
Back to news