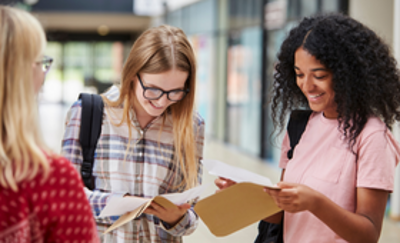 ASTI President congratulates Leaving Cert students
'You have had to cope with uncertainty and disruption' – ASTI President
ASTI President Miriam Duggan has sent a message of congratulations to approximately 60,000 Leaving Certificate students who are receiving their results today (Friday, September 2nd):
"To those receiving results today, your teachers are extremely proud of you. You have had to cope with uncertainty and disruption at a key point in your education journey. Whatever your results today, all of you have achieved an important milestone in your lives. I urge you to stay calm and take the time to explore your many options and pathways over the coming days and weeks. Know that the skills, experiences and resilience you have developed in the last number of years will stand to you."
"This year's students have come through three challenging years due to the pandemic. Some students had no experience of sitting State Exams prior to the Leaving Cert 2022. Thankfully, this year students had a far greater degree of certainty regarding their written exams and had the assurance of an independent, fair and transparent State Exams assessment process."
The ASTI President said that engagement between the education stakeholders (including the teacher unions), the State Examinations Commission and the Department of Education earlier this year resulted in the implementation of measures to ensure that aggregate Leaving Cert results in 2022 are not lower than last year.
"The impact of the pandemic on our examinations system over the past three years has underlined the importance of having a fair, transparent and robust State Exams process. In any change to the Senior Cycle, we must ensure that these strengths are retained, that equality of opportunity is a prerequisite, and that the collective voice of teachers is heard and respected."
Finally, the ASTI leader asked today's Leaving Cert students to celebrate their results safely.
"This is a day to celebrate as a key milestone in your life. I urge you to keep yourself and those around you safe," said Ms Duggan.
Ends
Back to news