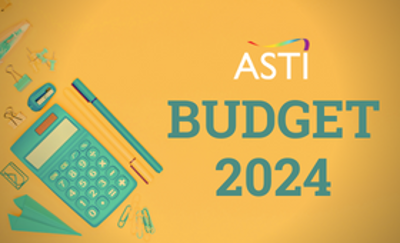 'Budget 2024 – a missed opportunity' – ASTI President
Budget 2024 does not address the big issues in education requiring urgent investment such as class size, teacher shortages and school guidance/ counselling services, according to ASTI President Geraldine O'Brien.
The OECD Education at a Glance 2023 report reveals that Ireland is in last place out of 36 countries for investment in second-level education as a percentage of gross domestic product (GDP). The report also shows that actual expenditure per second-level student in Ireland is below the OECD and EU averages.
Commenting on Budget 2024, Ms O'Brien said:
"We are extremely disappointed and concerned that despite the fact that schools are struggling to fill vacant teaching positions and students are in too large classes, the Budget does not address the big issues. It is a missed opportunity."
"Modern curricula require that significant practical, collaborative, and experiential work takes place in the classroom. This is not sustainable in overcrowded classes. Teachers are simply not able to give every student the attention they require."
Student numbers increasing
The ASTI notes 740 additional teaching posts across primary and second-level schools. These teaching posts relate to demographic changes including an increase in the number of students attending second-level schools. Therefore, there will be no reduction in the pupil-teacher ratio.
School books
The ASTI President welcomed the announcement regarding free school books for Junior Cycle students. However, the ASTI is disappointed that the one-off additional funding for schools this year has been reduced from €90 million in 2023 to €61 million in 2024. Schools struggled to survive on last year's allocation.
School middle management
The Minister for Education Norma Foley had indicated a movement in middle management provision in second-level schools at ASTI Annual Convention, which she stated would be subject to budget constraints, and it is extremely disappointing that this has not been delivered upon in Budget 2024. Schools are surviving with skeletal management structures.
"It is almost a decade and a half since austerity measures wreaked havoc for management structures in schools," said Geraldine O'Brien.
"The Government must restore middle management posts to pre-austerity levels. Many of these posts relate to student pastoral care in schools."
ENDS
Back to news