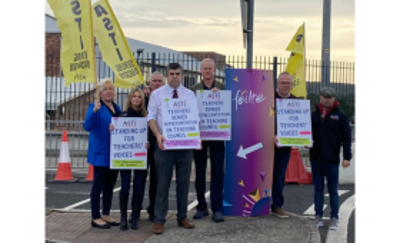 Galway school decision denies rights of teachers to Teaching Council representation
The ASTI held a short protest outside the Teaching Council annual FÉILTE festival to highlight the situation whereby a teacher member of the Teaching Council is unable to attend Council meetings due to his school's refusal to release him.
Niall Duddy, a teacher at Presentation College Athenry, was elected by teachers to represent 8,000 second-level teachers across 13 counties on the Teaching Council. However, his school Board of Management are refusing his requests to attend Teaching Council meetings. Meanwhile, other elected teacher representatives on the Teaching Council are attending meetings as part of their role in representing teachers across Ireland.
Commenting on the situation Mr Kieran Christie, ASTI General Secretary, said:
"Despite the fact that Mr Duddy was duly elected by teachers and subsequently appointed to the Teaching Council position by the Minister for Education Norma Foley, the Board of Management at Presentation College Athenry are refusing a reasonable request by Mr Duddy to represent thousands of second-level teachers across Galway and other counties.
"The Teaching Council performs vital work in the national interest including the registration of teachers, professional standards in teaching, and investigations into complaints against teachers. It is unthinkable that a Board of Management in one school in Ireland would choose to stymie thousands of teachers' democratic right to be represented on the Teaching Council."
The Teaching Council annual FÉILTE festival took place in Portlaoise on Saturday, October 7th.
ENDS
Back to news