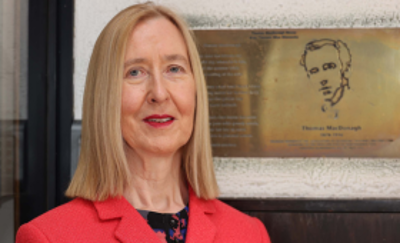 'Government must get real about addressing teacher shortage crisis' - Clare teacher is new ASTI President
The teacher shortage crisis is undermining children's and young people's education and must be addressed as a matter of urgency, according to the new ASTI President.
Geraldine O'Brien, a second-level teacher at St Joseph's Community College, Kilkee, Co. Clare, begins her term as ASTI President tomorrow, August 1st.
"The Government must get real about addressing the factors that are making teaching in Ireland unattractive. While the teacher shortage problem goes back several years, research indicates it is now at its worst. Housing difficulties, teachers' workload, and the fact that schools are starved of essential resources are key reasons behind this," said Ms O'Brien.
In an ASTI/ RedC survey carried out earlier this year, three quarters of school leaders reported that they had received no applications for an advertised teaching post in the 2022/23 school year; 81% said they had to employ at least one unqualified teacher during the year.
"The Government must tackle housing issues affecting young workers. Teachers' working conditions must be also tackled through proper investment in schools and in the teaching profession. The OECD report Education at a Glance 2022 ranked Ireland 36th out of 36 countries in terms of investment in second-level education as a percentage of GDP. What this means is under-staffed and under-funded schools, leading to burnout and demoralisation amongst teachers," said Ms O'Brien.
Trust in change
The ASTI President said the failure to consult and collaborate with teachers on proposed changes to the Senior Cycle is also impacting on teacher morale. "Education must continuously evolve, this is a given. However, it is teachers who best understand what will work in the classroom. It is teachers who drive change in the classroom. Therefore, side-lining teachers will have implications."
Ms O'Brien teaches Home Economics, Computing, CSPE and SPHE in St Joseph's Community College, Kilkee, Co. Clare and is originally from Drumkeerin in Leitrim. She previously served as ASTI Vice President, Standing Committee representative for Clare, Limerick North, Limerick South and Nenagh, and Vice Chair of the Clare ASTI branch, amongst other roles.
"The 2023- 2024 school year is an important one for the future of the teaching profession and for education in Ireland. My objective is to follow in the footsteps of our 2022/23 President Miriam Duggan, RIP, during my term as ASTI President. Miriam, who sadly passed away in June, demonstrated tenacity and courage in standing up for teachers, students and education."
The ASTI represents over 18,000 second-level teachers.
Ends
Back to news