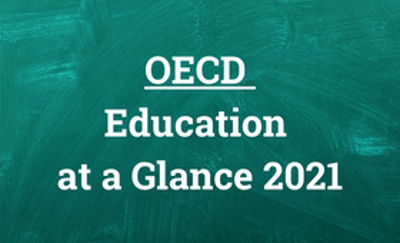 Ireland remains at the bottom of global ranking for investment in education
The OECD report Education at a Glance 2021, published today, once again ranks Ireland in last place out of 36 countries for investment in second-level education.
In 2018, Ireland invested 1.1% of gross domestic product (GDP) in second-level education compared to the OECD and EU averages of 1.9%, according to the report.
Expenditure per second-level student is $10,634 compared to $11,590 OECD average and $11,543 EU average.
Before the pandemic, total public expenditure on primary, secondary and post-secondary non-tertiary education in Ireland reached 2.3% of GDP in 2018, which was lower than the OECD average of 3.2%.
Commenting on the report, ASTI President Eamon Dennehy, said that ongoing failure to invest in our schools will have long-term social and economic consequences both for individuals and our society:
"If we take GDP as a measure of national wealth, it is unacceptable that a rich country like Ireland remains at the bottom of the global rankings. The pandemic has dramatically underlined how important schools are to children, families and communities. It has also demonstrated that large classes, insufficient staffing, inadequate accommodation and ventilation are undermining the capacity of schools to provide a safe environment for quality education."
Mr Dennehy said a key objective of Budget 2022 must be to increase investment in education. "We need more classrooms, more communal spaces, better ventilation and overall physical infrastructure. Above all, we need more teachers to provide the range of learning and wellbeing opportunities demanded by current education policy."
Equity is an important policy goal
The report shows that, across a number of indicators, equity is a strong feature of our education system. School retention is high: 93% of 15-19 year olds are enrolled in second-level education compared to the OECD average of 84%. Ireland has less children from lower socio-economic groups performing at the lowest level in the OECD PISA study – 16% compared to the OECD average of 29%.
A positive equity outcome is also indicated in terms of the smaller than OECD average difference between native-born and foreign-born 15-29 year olds who are neither employed or in education or training (NEETs). In Ireland, the difference is 2 percentage points compared to the OECD average of 5%.
COVID-19 and schools
The supplementary report on the state of global education and the impact of COVID-19 notes the additional steps taken by countries including Ireland to support remote learning and safe re-opening of schools. However, the short and long-term impacts of the pandemic are still unclear and the loss of learning opportunities must remain a high priority. The recovery must focus on addressing inequities exposed by the shift to remote teaching and learning. The ASTI President said that the contingency measures delivered by the government over the last year demonstrate that further investment in education is both possible and necessary.
Ends
Back to news