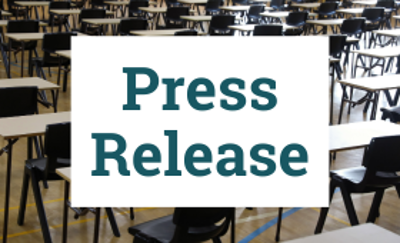 'Junior Cycle results an important education milestone' – ASTI President congratulates students
ASTI President Geraldine O'Brien has sent a message of congratulations to all of the students, parents and teachers involved in the 2023 Junior Cycle examinations:
"To all the students getting their results today, you have reached an important education milestone and your teachers are very proud of you. Your experiences, efforts and learning will provide a sound basis on which to progress your future studies and your life after completing school.
"The Junior Cycle and Leaving Cert examinations enjoy a high level of public trust. Students are assured of being treated fairly and objectively. The exams process also protects the student-teacher relationship which is at the heart of the Irish school system. OECD research demonstrates that 15-year-olds in Ireland perform very well when compared to their international counterparts. They are amongst the top in the world for reading literacy and well above average for maths and science."
The ASTI President warned that Ireland must protect its high performing education system by tackling the current crises of overcrowded classes and teacher shortages.
"ASTI research demonstrates that Junior Cycle classes in many subjects are over-crowded with approximately half of all students experiencing classes of at least 26 students and more," said Ms O'Brien.
"Modern curricula require that significant practical, collaborative and experiential work takes place in the classroom. This is not sustainable in overcrowded classes. Teachers are simply not able to give every student the attention they require."
She added that over-crowded classes also increase work intensity and workload for teachers: "It is essential that teaching is seen to be a sustainable and rewarding career choice."
Finally, the ASTI President urged all students celebrating their Junior Cycle exam results today to be safe. "Please if you are celebrating, do so in a safe manner and make this a day to remember for all the right reasons. If you are celebrating with friends make sure that your parents/ guardians are involved in your plans."
ENDS
Back to news