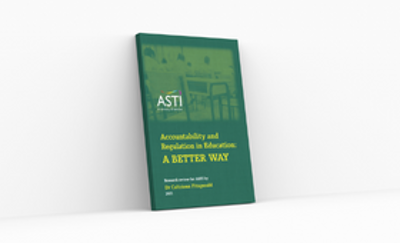 School charter Bill could harm student wellbeing, widen inequalities
Research commissioned by the ASTI highlights possible harmful consequences of the Education (Parent and Student Charter) Bill 2019 for students, schools and wider society.
A review of school charter models carried out by Dr Caitríona Fitzgerald finds that they are primarily based on a business model. These market-based models encourage schools to focus on narrow performance indicators, lead to reduced student and teacher wellbeing, and widen social inequalities.
ASTI President Eamon Dennehy said Dr Fitzgerald's research underpins the ASTI's concerns that the draft legislation will have unintended negative consequences for second-level education. "As it stands, the Bill represents a disturbing departure from the established norm of a whole-school-community approach to second-level education, one which is based on fostering partnership and inclusivity. Instead, the Bill frames schools as service providers and parents and students as clients. Dr Fitzgerald's research demonstrates that this type of consumerist approach has the potential to be extremely damaging for young people, for education systems and for society as a whole."
The report Accountability and Regulation in Education: A Better Way states that market-based accountability mechanisms – such as charter models – treat schools as measurable entities with specific outputs that can be used for evaluation, ranking and comparison.
Key findings of the ASTI-commissioned review are:
Across Europe, charter models generally mean market-based forms of accountability.
Market-based accountability has negative implications for teacher professionalism, school leadership and workload, school culture, and school-community relationships.
School leaders are encouraged to focus on performance and output, rather than pedagogical leadership, values and social goals.
Student and teacher wellbeing suffers.
Market-based reforms widen the education inequality gap.
"Any proposed legislation seeking to regulate the relationships between school community partners must support teacher professionalism and facilitate effective engagement and decision making by all partners," said Mr Dennehy. "It is essential that as a society, we reject proposals which essentially commodify education as primarily a relationship between providers and consumers."
Ends

Click here for publication.
Back to news